Preoperative measuraments
-
Using film radiography and trasparent template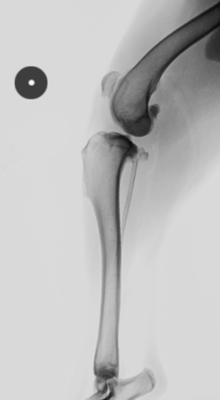 Take measurements with the stifle extended.
Always insert a radiographic reference at the same height as the tibia, to assess the radiographic magnification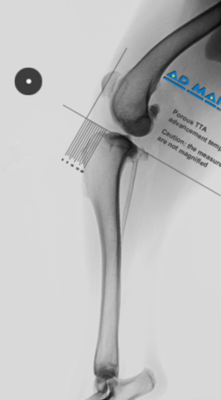 Overlap the transparent template so that the bottom line corresponds to the TPA and that the orthogonal line corresponds to the origin of the patellar tendon
Identify the point on the vertical line of the zero of the template on which it must be advanced the insertion of the patellar ligament on the tibial tuberosity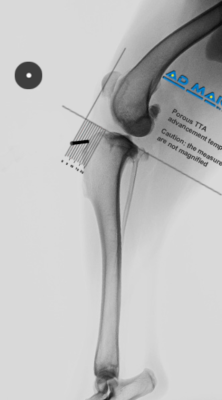 Draw the connection line between the point of insertion of the patellar ligament on the tibial tuberosity and the point identified with the template.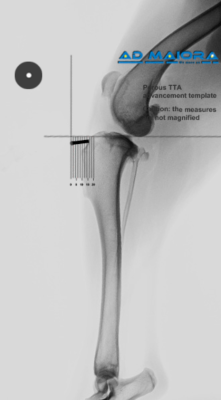 Measure the distance between the two points identified, which represents the advancement of the crest needed to bring the patellar ligament perpendicular to the tibial plateau.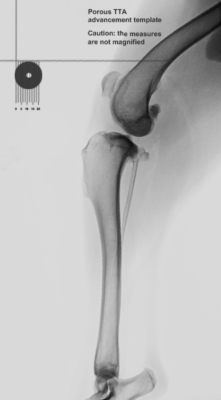 Measure the radiographic reference to evaluate the magnification and compensate the measurements for this magnification
The definition of the position and direction of the osteotomy are carried out in the manner already explained in the previous paragraph using digital radiography.
© X-Porous TTA created by Ad Maiora srl
Via della Costituzione 10, 42025, Cavriago – Italy
info@ad-maiora.eu
support@ad-maiora.eu
+39 348 868 3311